Ashiatsu/Ashi-Thai: 60/$95 – 90/$130 – 120/$160
Members: 60/$80 – 90/$115 – 120/$145
Known as "the deepest & most luxurious massage on the planet," Ashiatsu is a painless barefoot Swedish massage that applies a moderate to deep or deeper than deep pressure (depending on the client's needs) in the form of gliding, friction, and stretching. Ashiatsu delivers broad compression strokes without ever feeling pokey or painful. Most clients relate it to feeling like a therapist's forearms when receiving a hands-on massage. It is well-known for its benefits when it comes to neck, back, and hip pain relief along with its deep relaxation.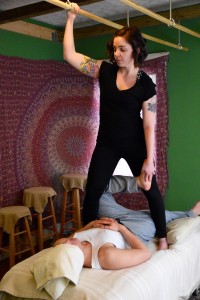 Ashi-Thai a combination of compressive techniques and passive stretches. The movements are an expression of traditional Thai massage and have been modified for the use of overhead bars to avoid bending and lifting. It is performed fully clothed without any oils or creams. Like traditional Thai massage, Ashi-Thai is effective in relieving stiffness and tightness in the client's body. Many believe that stretching and massage therapy have proven beneficial for chronic conditions such as low back pain, high blood pressure, depression, stress and tension.
Reiki/Reflexology: 60/$95
Members: 60/$80
Coming from the Japanese words Rei (meaning "higher power") and Ki (meaning "life force energy"), Reiki is a Japanese technique administered by the laying of hands. Based on the idea that life force energy flows through us, Reiki treats the whole person including body, emotions, mind and spirit and creates many beneficial effects that include relaxation, feelings of peace, security and well-being. Reiki is a simple, natural and safe method of spiritual healing and self-improvement that everyone can use.
Integrative Reflexology® is a massage typically done on the feet, hands, and ears that stimulates the proprioceptors in your body to increase the stimulation of the nerve endings, creating a calming whole body effect. Benefits include feeling deeply relaxed, increased digestive response, sinus drainage, relieved PMS symptoms, reduced swelling in the feet, and increased circulation.
Prenatal: 60/$95 – 90/$130
Members: 60/$80 – 90/$115
Prenatal massage is a Swedish massage for those who are pregnant in their 2nd and 3rd trimesters. This massage is typically light to firm in pressure and incorporates continuous effleurage strokes and light stretching to relieve any aches or pains. It promotes lymphatic movement which is great when experiencing swelling around the ankles and is also great for relaxation. If you're pregnant and looking for massage in your 1st trimester, you must have permission from your preferred medical doctor. Ashley will not give you a massage in your 1st trimester without your doctor's consent. However, she offers Reiki during the 1st trimester and her clients have found these sessions to be very as beneficial!
The Compassionate Touch
Ashley Shears, LMT
Louisville, KY
(502) 414-1863
ashley@thecompassionatetouch.com