Ashiatsu Massage
Ashley's MOST RECOMMENDED service! In this session, you'll get it all: focus work, stretching, and deep relaxation! Ashiatsu is a painless barefoot massage that applies deep, or deeper than deep, pressure in the form of gliding, friction, and stretching. Ashley uses two overhead parallel bars for balance while delivering broad compression strokes that engulf your muscles without feeling pokey or painful. Gravity does most of the work while Ashley engages the muscle and connective tissue using trigger point, myofascial, deep tissue, and range of motion techniques applied with her feet! Her style is anatomy-focused and is well-known for its benefits when it comes to neck, back, and hip pain relief.
"Ashley really understands the way the body works and can help you pin-point what's bothering you and work it out." – Charlie P.
---
Sarga Bodywork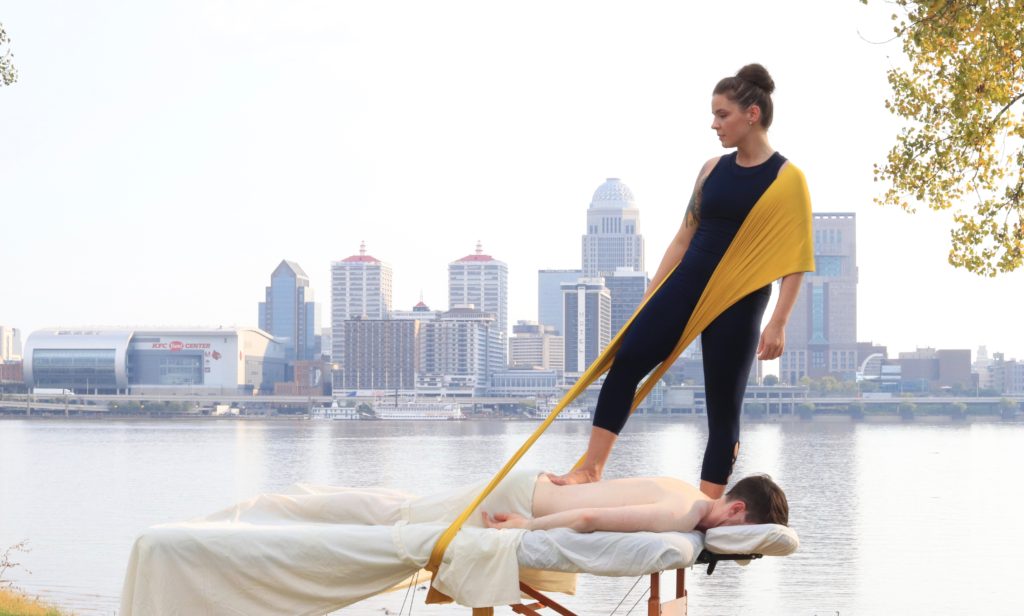 Different from Ashiatsu but just as lovely, Sarga Bodywork is a barefoot massage method that incorporates the use of a fabric strap fastened to the massage table instead of overhead bars to deliver slow, deep, myofascial techniques. This fabric strap is used for stability and adds tensional and gravitational force by pulling up on the strap while applying downward pressure. The tensional force is then transferred painlessly to the client's body using the broad surface of the foot to facilitate less restriction and more ease and relaxation in the client's body.
Sarga Rx (Currently unavailable)
Sarga Rx is an interactive Sarga session where you work together with Ashley to stretch and loosen your body. This technical work encourages a more efficient and "stacked" postural alignment while increasing body awareness and creating a greater sense of ease and freedom within your body. Different from Ashley's ashiatsu stretching, the massage table is on the ground and you are clothed. Men wear briefs/running shorts and women wear running shorts and a tube top/bralette. These are preferred over sports bras so we can access your pectoral muscles without the interference of bra straps. Women may also wear a tank top with bra straps tucked in.
Ashley is one of the first eight graduates world-wide who is certified in this technique! How cool is that?
In this video, Sarga Rx is shown on the floor.  This video also shows where Ashley took her training, on the beautiful island of Oahu, Hawaii.
---
Movement Therapy (Currently unavailable)
CURRENT CLIENTS ONLY
Ashley works one on one with you to improve your body's alignment by offering guided movement sequences that help stretch and strengthen your muscles. She moves through the sequences with you, offering instructions and modifications as needed. The sessions focus on body and breath awareness that will help ease your aches and pains while improving your day to day movements.
Prenatal (Currently unavailable)
CURRENT CLIENTS ONLY
Prenatal massage is a Swedish massage for those who are pregnant in their 2nd and 3rd trimesters. This massage is typically light to firm in pressure and incorporates continuous effleurage strokes and light stretching to relieve any aches or pains. It promotes lymphatic movement which is great when experiencing swelling around the ankles and is also great for relaxation. If you're pregnant and looking for massage in your 1st trimester, you must have permission from your preferred medical doctor. Ashley will not give you a massage in your 1st trimester without your doctor's consent. However, she offers Reiki during the 1st trimester and her clients have found these sessions to be very as beneficial!
Reiki/Reflexology (Currently unavailable)
CURRENT CLIENTS ONLY
Coming from the Japanese words Rei (meaning "higher power") and Ki (meaning "life force energy"), Reiki is a Japanese technique administered by the laying of hands. Based on the idea that life force energy flows through us, Reiki treats the whole person including body, emotions, mind and spirit and creates many beneficial effects that include relaxation, feelings of peace, security and well-being. Reiki is a simple, natural and safe method of spiritual healing and self-improvement that everyone can use.
Integrative Reflexology® is a massage typically done on the feet, hands, and ears that stimulates the proprioceptors in your body to increase the stimulation of the nerve endings, creating a calming whole body effect. Benefits include feeling deeply relaxed, increased digestive response, sinus drainage, relieved PMS symptoms, reduced swelling in the feet, and increased circulation.
DISCLAIMER: 
Please note that all services are strictly therapeutic and professional.
Any inappropriate conduct will result in immediate termination of your service, with full payment of all scheduled services required immediately.
---
Ashley Shears, LMT
(949) 297-6765
ashley@thecompassionatetouch.com