May Newsletter – Embracing

Change

This month marks my 10 year anniversary of becoming a licensed massage therapist. Massage therapy was something I happened to fall into, but soon became something I was passionate about pursuing. Though I didn't know where it would take me, I studied and worked really hard to do my best.

I remember taking the national exam, feeling anxious and nervous while waiting for the computer to tally my score. Finally, after waiting for the longest five seconds ever, one word appeared on the screen: PASS.

I let out a huge sigh and my face filled with joy. I did it! In that moment my life changed. And now it's changing again.

Early next month I'll be moving to Southern California to restart my business, in addition to teaching Ashiatsu with the Center for Barefoot Massage (eee!). For years It's been a dream of mine to move out west and I'm thrilled that I'm able to do so while also pursuing a career that I love so much.

I am extremely grateful for my time in Louisville. The people I've met along the way have supported and encouraged me through all the good and tough times. You have all helped me grow as a person as well as a businesswoman.
Increase Mobility – April Newsletter
Spring has finally arrived and it's time to get back into your groove with your physical activities! Last month I traveled to Saint Louis, furthering my education, to help increase the quality of your sessions. There I learned how to better stretch and strengthen your muscles to improve your range of motion!
What is range of motion and why is it important?
Range of motion is a measurement of movement around a joint. Don't be fooled; improving range of motion isn't about being flexible. It's about being more mobile. Increased mobility helps improve performance in daily activities as well as sports or other strenuous activities by creating good balance of strength and stability. By improving mobility in your muscles and joints, you'll be better equipped to prevent injuries in addition to healing better when injuries occur.
Is it the same as being stretched?
Yes and no. Stretching is only the beginning when trying to increase range of motion. The techniques I've learned aren't your typical passive stretching techniques where I do all the work. Your participation and feedback are an integral part to you healing yourself so, a lot of times, while I'm engaging your limbs in a stretch, you'll be activating your muscles with gentle movements that will stimulate your nervous system creating increased range of motion in your muscles and joints, thus leading to longer lasting healing effects.
Celebrating Barefoot Massage – March 2019
This month marks FOUR YEARS since I started practicing barefoot massage. So, today I'm going tell you what I love most about Ashiatsu and Sarga Bodywork and why you should love them, too!
Ashiatsu is my first love when it comes to barefoot massage and is what I practice the most. It came into my life when I was suffering from two shoulder injuries caused by over-exertion from trying to deliver the deep pressure that most clients want and love.
Ashiatsu is my first love when it comes to barefoot massage and is what I practice the most. It came into my life when I was suffering from two shoulder injuries caused by over-exertion from trying to deliver the deep pressure that most clients want and love.
I particularly love this style of work because it's fluid and therapeutic while simultaneously being deep and specific–all while saving my body from burnout, bringing awareness into clients' bodies, and creating the most comfortable and effective massage sessions ever!
Sarga Bodywork is my newest love.  It's so different from Ashiatsu! Though it's more high-friction in its contact, it's just as relaxing and beneficial for clients.
Sarga targets your body's fascia, the connective tissue that surrounds all your muscles and organs to help your body function the way it should. The high friction engages the fascia while elongating and freeing up space in the body with its glacier-speed barefoot glides.
I love Sarga Bodywork because it's so complimentary to Ashiatsu. When fascia is free, muscles can move and the body can function as it is intended.
Sarga originated in the Hawaiian Islands, which is where I learned this modality. Whenever I've giving a Sarga session, I'm reminded of my time there–another reason to love it!
No matter which style of barefoot massage you choose, your sessions will always be filled with a compassionate approach and a targeted execution which will result in much more ease and relief for you. Who wouldn't love that?
Loving Shindigs – February 2019
This month starts in St. Louis where I'll be taking a class that will toe-tally help you at your next session! This ashiatsu class is going to help target more specifically your neck, pecs, shoulders, and even your hips and legs by teaching me how to work with you laying on your side. I've heard the work is absolutely delicious! I can't wait to experience it and am even more excited for you to try it!
On Tuesday February 5th at 6:00pm, I'll be back in Louisville to spend the evening with my friends at the Louisville Salt Cave giving reflexology. I'd love to see you there.
Last, but not least, I'm most excited for this next event. On February 10th, I'll be hosting my very first Partners Barefoot Massage! Spend the evening giving back and connecting to your special someone.
From 5:00pm-7:00pm, you'll learn about barefoot massage, its benefits, and how to target your partner's problem areas by giving and receiving barefoot massage! At the end of the evening, each couple will receive a special gift that can be saved for Valentine's Day.
Happy New Year – January 2019
As this new year begins, I reflect on the past twelve months that were filled with traveling all over the country learning new modalities–skills that have taken my practice and your care to the next level. I'm happy to announce that this year that trend will continue! In the coming months, be prepared to experience new barefoot techniques and this month, a new service!
Most of you know I had an injury in college where my back twisted and left me with a pain that would shoot down my leg, causing my knee to buckle and taking me to the ground. I made it my mission in massage school to figure out which muscles were involved in causing the pain and have since worked extensively to heal my back.
The biggest thing I found to help heal my back, aside from regular massages, was practicing yoga–specifically, Iyengar yoga. The summer after finishing massage school, I went to Switzerland and practiced Iyengar yoga every week. By the end of the summer I was running up and down hilly, cobble stone streets and riding my bike seventeen miles around the nearest lake with zero back pain!
Yoga has been crucial to my healing journey and has definitely influenced my approach and philosophy when it comes to my massage practice and helping you to heal and achieve more balance in your body. You've probably noticed this every time we talk about maintaining that post-massage feeling with the stretching and strengthening of your muscles, along with incorporating your breath into those movements to help bring more awareness into your body and everyday life. So this month I've decided to elevate that focus by offering Movement Therapy sessions.
What is a movement therapy session, you ask?
A movement therapy session takes our post-massage consultations to the next level. During this session you'll receive one-on-one instruction and guidance while we move together to stretch and strengthen your body. Each session is tailored to your individual needs and will give you the tools to maintain structural balance throughout your life.
I'm super excited to add this service to my menu and hope you are open to giving it a try.
Incorporating Self-Care This Holiday – December 2018
Self-care should be a priority year-round, but especially during the holidays. With all the extra running around, buying gifts, planning parties and preparing meals, it's extremely important to take a moment (or two or three) and make time to care for yourself.
Here are a few super simple, daily self-care tips:
1) Stay hydrated. Did you know that being thirsty is the first sign of dehydration? By the time you realize you're thirsty, your body is already 1%-3% dehydrated. Keep a water bottle with you throughout your day so you can take a sip whenever you need it. Regular consumption will help keep your body loose and your mind clear.
2) Breathe deeply. The more stress you have (whether physical, mental, or emotional), the more likely your immune system is to weaken. When you feel yourself becoming overwhelmed and tense from crowds, traffic, or pressures from work, take a deep breath, exhale slowly (just like you do at the beginning of our sessions), and let go of any tension you're feeling. Repeat a few times and use those breaths to calm your mind and say something positive about yourself.
3) Manage stressors. If tasks are piling up and you're feeling the walls beginning to close in, lighten the load by asking for help. You can't do it all for everyone. I mean… you could, but is it worth risking a weakened immune system and feeling frazzled?
4) Wash your hands regularly. You never know what kinds of bacteria you've come in contact with throughout your day and you definitely don't want to spread around the nasties. Now is also the time that viruses tend to spread. They're the unpleasant gift that keeps on giving by infecting you and your loved ones. They leave everyone feeling feverish and fatigued, among other things, and no one wants that! Cover your mouth and nose when you cough or sneeze to help prevent the spread of viruses and then wash your hands (again).
5) If you've been actively practicing the first few tips but you're starting to feel under the weather, take a day off (or two) to rest and recuperate. I know, I know… you have this thing and that thing to do and who else is going to do it? See tip #3. Cancel your appointments and listen to your body. Your body and health will benefit and thank you more by you staying home and resting, along with your massage therapist and your community.
6) Last but not least–be kind to others. Let a car go in front of you or smile at a fellow shopper. We're all in the same boat, doing our darnedest to make this holiday the best one yet. Spreading kindness is probably the simplest thing we can offer our friends, family, community, and ourselves.  It's truly the gift that keeps on giving.
Of course these tips are only the beginning of the ways you can incorporate self-care into your daily holiday routine. Whatever you do, take care of yourself and make yourself a priority! 
Heating It Up – November 2018
This month celebrates my three year anniversary of being an independent massage therapist! My style and modalities have evolved greatly in that time–from traditional Swedish and deep tissue massage, prenatal and reflexology/reiki, to Ashiatsu, Sarga Bodywork and Sarga Rx. This month I'm heating up my service menu by adding Hot Ashi sessions–just in time for the colder weather!
What is Hot Ashi, you ask? Hot Ashi is a 60 minute session where you lay in comfortable clothing on my table while I combine the use hot flaxseed pillows with gentle foot compressions to warm and loosen your muscles. You can choose to have focus work on your upper or lower body or you can have a general full body experience. I've already been incorporating Hot Ashi into my longer sessions and clients are loving it!
I'm so excited because there's even more to share with you! But, it'll have to wait until next month. Stay tuned to see how to take your health and wellness journey to the next level!
A Closer Look Into The Compassionate Touch – October 2018
As my third anniversary approaches (next month!), I've been reflecting on the journey of the last few years. Grab a drink & get cozy because I'm opening up a little piece of my heart to share with you how my business has come to be what it is today!
How did I get into the field of massage?
The simplest answer here is that a coworker mentioned it to me. After graduating college I moved to Kentucky and couldn't find a job in my field that I enjoyed. I started working a minimum wage job just to make ends meet. One night my coworker and I were having dinner and she mentioned she was thinking about going to massage school. Casually, she said, "You should look into it, too." So I did and, as they say, "The rest is history!" (just kidding!)
What inspired my business name and logo? 
When working for myself was only an idea, I asked friends and a few regulars how they would describe my approach, philosophy, and style of massage. Literally all of them concluded that compassionate was the best description. A few months later while I was working I had a vision of an elephant holding a lotus. She stayed with me for quite some time during that session. She was so profound that I can still see her to this day. I went home and did a quick Google on "elephant holding lotus" and found it to be connected to Buddha, the compassionate one. This was long before I learned barefoot massage but feel that the name and style of massage have translated quite nicely.
How has my practice transformed? 
I started out, as most therapists do, using their thumbs, knuckles, forearms and elbows to do deep tissue massages. After years of clients saying "You can go deeper," and actually trying to do so, I injured my shoulders. It was so painful that I couldn't brush my teeth without crying. I took classes and became certified in reflexology, prenatal massage, and reiki… all light, hands-on work, but found that most clients still wanted a moderate to deep or deeper pressure.
One day I was crying about my shoulders and a fellow therapist mentioned that I should learn
Ashiatsu
. So I did a little research and signed up for the beginners and stretching classes. What a game changer!  For me, using my feet was just like dancing, something I had been doing since I was three years old. It wasn't painful for clients and I was able to give the pressure they wanted.
I shared this awesome modality with the public that summer by participating in outdoor events like farmers markets, but quickly became exhausted from having to set up and tear down my portable Ashiatsu bars. I was explaining to a client how tiresome it had become and he suggested I check out his barefoot massage therapist in another state. A quick search and lurk online and that's how I found
Sarga Bodywork
. And what another game changer that has been!
What are my hopes for the future?
My hope for the future is to continue learning, growing and giving the most incredible, fantastic barefoot massages I can. I hope that, in doing so, I can be an inspiration to help my clients and other therapists live healthier, happier, more balanced lives.
Wow! If you've made it this far, thank you!
Big Things are Happening! – July 2018
The last two months have been full of practice and recovery. I want to give a HUGE thank you to all who let me practice Sarga Bodywork! Your willingness to let m
e practice and your feedback is invaluable to me. I'm hoping you'll continue to let me practice on you in August because, at the end of this month, I will be traveling back to Hawaii to take a new course called Sarga Rx!
What is Sarga Rx? 
Sarga Rx is an interactive Sarga session where you and I work together to stretch and loosen your body. Different from my usual stretching sessions, my massage table will be lowered to the ground and you will be clothed. Men will wear briefs/running shorts and women will wear running shorts and a tube top/bralette. These are preferred over sports bras so we can access your pectoral muscles without the interference of bra straps.
Why is this so exciting?
Sarga Bodywork is a fairly new barefoot massage method. As of my completion of the course in April, there were approximately 60 graduates world-wide. Sarga Rx is only offered to Sarga graduates and there are only 10 spaces available. This means that I am one of ten graduates world-wide who will know this new technique! And, I get to share it with you! How cool is that?
Traveling 101 – April 2018
Today is Easter Sunday so I'm home visiting my family in Indiana and in a few weeks I'm traveling to the beautiful island of Hawaii for my Sarga training. Later this month we have Thunder Over Louisville and then Derby. The month is flying by and it has only just begun!
Whether you're taking a spring break, traveling to visit family or out of town to get away from the crowds, I thought I'd share a few traveling basics that help keep me balanced and healthy while I'm away.
1) Water bottle. I always talk about the importance of drinking water and, in my opinion, it's even more important while traveling. With long hours of driving, changing elevations and dry cabin air, traveling has a tendency to increase dehydration. Keeping my water bottle full and with me at all times, whether it's in my purse or in my center console, ensures that my organs can function properly and my muscles are less stiff.
2) Neck pillow/neck wrap* (or both!) If I'm traveling by plane, I make sure to take a neck pillow. It helps my neck stay more in alignment and makes sitting in a cramped seat a little more comfortable. My neck feels less stiff and helps prevent headaches from extreme neck positions for long periods of time. When I'm traveling by car, I tend to take my neck wrap. It's great to use at the end of the day after a long drive to loosen up my neck. I use it heated and, after it cools, I give my neck a good stretch.
3) Travel apothecary. I keep a goody bag with teas, hand sanitizer, airborne, rollerballs* and lip balm*. I love mint and lavender teas to help digestion and ease any stresses of the trip. Airborne gives my immune system a boost to help fight anything lurking in the air. I just add it to my water bottle! And my lip balm is a great moisturizer for my lips. I also use it for my hands if they get dry!
4) Healthy snacks. I like to keep this simple. Nuts and granola bars are easy to travel with, healthy, tasty and filling.
5) iPad. I load up my iPad with games, music and reading material so I'm never bored and the time flies by.
There you have it. Five basics I use while traveling to keep my mind and body balanced. What do you do to help make your travels easier?
Steppin' It Up – March 2018
Exciting news! Next month I'm heading to the beautiful island of Hawaii to study a new barefoot modality called Sarga!
What is Sarga, you ask?
Sarga Bodywork is a barefoot massage technique that uses a fabric strap attached to a massage table to deliver myofascial and deep tissue techniques. Sarga has two meanings. In Spanish, it is a tapestry woven from many threads and in Sanskrit, sarga refers to a creation or energy made to manifest into form.
I'm so excited to take this class! Not only will this new modality make my practice even more unique and versatile, it will allow me to go to more farmers markets and local events, too — something I've been wanting to do for quite a long time! This will be my first time traveling to Hawaii. Have you been?
Hope & health on the horizon – February 2018
As most of you know, I had a back injury in college. After graduation I moved to Louisville and attended massage school. Throughout my training I've been dedicated to figuring out how to rehab myself so I can be healthy again and through the constant effort of listening to my body, getting regular massages, doing yoga and pilates, weight training, and staying active, I've done a pretty good job at maintaining a healthy back.
I recently attended a beginners yoga class to help loosen and ease my body back into my physical routine from my holiday travels. Near the end of the class I re-injured my back. I have no idea how it happened! Over the years I've learned what helps ease the pain and what doesn't, but this time was different. All my go-to remedies and exercises weren't working.
At a loss, I consulted a trusted friend and she suggested chiropractic work. I've always been pretty scared of chiropractic work even though I know how beneficial it can be. Now was the time. I had to take action and do something different. What did I have to lose?
I went for the consultation and set up regular appointments to get my spine back on track. The chiropractor has recommended that I abstain from vigorous activity for a few weeks so my body can adjust to the chiropractic changes. It's been tough to refrain from the activities that bring so much balance and joy into my life. I've felt a little achy and tired from taking on a new form of healing, but I must say that I've been pleasantly surprised and looking forward to being pain-free and super healthy again. (That's the ultimate goal, right?)
So, what's the point of this long-winded story?
Sometimes self-care is not just taking a fitness class or having "me time," but trying something new, pushing yourself outside of your comfort zone, or forcing yourself to rest. It can be a frustrating process and the journey isn't always easy, but I'm here to help and together we can share in the healing journey.
New Year, Healthier You – January 2018

The new year is a great time to look back and evaluate yourself. What did you accomplish? What would you like to improve?
One of my new years resolutions is to continue to help you improve your health and well-being through the art of massage and self-care. Including self-care into your daily, weekly, or monthly routine is a great way to become a healthier version of yourself. Whether it's taking a few minutes every morning to stretch or taking a luxurious bath once a week, self-care has immediate and long-term benefits.
Want to step up your self-care?
Join my membership program! It has been such a hit, I've decided to open up FIVE MORE SPACES! If you want to take that next step in committing and improving your health and wellness, I would love to help you along your journey.
Here are a few benefits to becoming a member:
* monthly massages at a discounted rate
* regular one-on-one consultations to help incorporate easy self-care strategies in your daily life to create more balance in your body, mind, and spirit.
* discounted additional monthly massages
* special self-care welcome gift
* discounts on retail
A friendly reminder: with colder temperatures please remember to be mindful of your health and mine. If you feel ill before your appointment, please cancel. Trust me, I will do the same! Here is a reminder of my cancellation policies. On behalf of myself and other clients, I thank you.
Here's to a happy and healthier new year!
Compassion – December 2017
December is here and it's quite a busy time — planning, crowds, family, traveling, gifts… not to mention stresses of work, completing end of the year goals, and preparations for the new year! It can also be an emotionally difficult time for those who aren't able to spend time with their loved ones (my heart goes out to you!).
So, how can we balance all these things? The answer is simple. Show yourself compassion. When we first show ourselves compassion and love we are then able to genuinely give it to others.
Need help? Use the color green. Green is the color of our fourth chakra, the heart chakra. Located right in the center of our chest, this is where we hold love, sympathy, empathy, and compassion for ourselves and others.
When you see garland, christmas trees, or even my treatment room, use them as a reminder to check in with yourself. Stop and take few slow, deep belly breaths. On your exhale, imagine your body loosening and smile. Give thanks for the beauty and love surrounding you. Notice the difference it makes, just in those few moments, and be glad you gave that gift to yourself.
Want to take it to the next level? Check out the new retail section at my office. It's filled with easy, self-care and compassionate gifts!
Take the step towards a better you by ending this year and beginning 2018 with a vow to show as much compassion to yourself and to others as possible. If you have any questions, I'm here to help.
November 2017 – Celebrating Two Years!
There's so much to be thankful for and celebrate!
Not only is this month my two year anniversary but the other day I was honored to find out that, for the 2nd year in a row, Expterise had voted The Compassionate Touch as one of the Best Massage Therapists in Louisville! I really feel that it's because of you, my clients, that I'm able to do so well. Your thoughts, feedback, and loyalty mean the world to me. THANK YOU!
This month is also the first of my membership program. I feel this is a great way for you to take care of yourself and for me to give back to you. If you've not signed up, you're in luck! There are a few spots left! Sign up now by replying to this email to get a head-start on your commitment to your health and wellness.
As mentioned above, I am so grateful for your thoughts and feedback. It would mean a great deal to me if you could
leave a review
to share with the world how you feel about the work and service you receive from me.
October 2017
Welcome to October everyone!
I wanted to share with you this month's
Body Sense Magazine
as it's the perfect addition to last month's newsletter. In this autumn issue we learn more about the power of presence, how to get in touch with our inner healer, and 3 ways to become more self-aware.
Next Tuesday, October 10th, I'll be giving reflexology at
Louisville Salt Cave
 at 6pm. Sign up now to make sure you get a spot — they go quickly!
At the end of this month, Saturday, October 28th, I'll be teaming up with 502FitPass for the
502 FIT FEST
. Swing by to get a quick morning workout in and learn about all the ways you can stay healthy, active, and in tune with your body.
September 2017 – Mindfulness
I've been having so many conversations about mindfulness and presence lately. Being "in the moment" is something I've been practicing and adding to my daily self-care routine. I thought I'd give you a quick walk-through on what I've been doing to help be more present and mindful.
1) If discomfort, stress or anxiety start to creep up, stop. Congratulate yourself for first noticing these things! These are our body's way of communicating with us that something is out of balanced or unhealthy.
2) Take a few slow, deep belly breaths. Sometimes I like to close my eyes to feel more centered.
3) When exhaling, empty your belly of air and imagine whatever it is that's overwhelming you leaving your body.
4) Check in and ask yourself, "How am I feeling? What will help me to be more balanced, more stable… in this moment?" Maybe it's lowering your shoulders, taking a moment to stretch, or evening the weight between your right and left sides. It could be saying something positive about yourself, making a cup of tea, having a snack, or scheduling a massage. Whatever it is, do that thing.
5) Enjoy the feeling of ease you've gifted yourself and feel good about taking a few moments to check in and be more present.
It's that simple! You can add this practice to everything you do… even during massages!  Remember to be patient with yourself. It takes practice for this to become a habit. If you need help, make an appointment and we can work through it together.
I feel this practice transforming me into a healthier version of myself and I hope that it will be helpful for you, too!
August 2017
Long time, no newsletter!
I have returned from my vacation and am back in the swing of things. While away, I learned so many things, but what stood out the most was this: Vacations are a lot like massages. They're a great form of self-care, a necessity to one's well-being! They allow you to unwind, decompress, be fully present in your self, and helpful when trying to balance your mind, body, and spirit. Plus, they feel good! And who doesn't like to feel good? Seriously, take it from the girl who has been at the daily grind for the last 8 years. Yes, you read that right. EIGHT YEARS! It had been 8 years since my last true vacation. That's way too long, everyone.
Now, to update you on what's going on this month:
This season's edition of Body Sense magazine is out! It shares tips on how to become one of my favorite clients, how to help a colicky baby, and ever constant debate: is it masseur, masseuse, or massage therapist?
Reflexology at Louisville Salt Cave is happening this Tuesday, August 8th at 6pm. Call or go online to reserve your spot now! Also, I'll be at the Lexington Road Rainbow Blossom farmer's market Sunday, August 20th from 12:00pm-4:00pm giving Ashi-Thai. Come out, say hi, and get a massage. I'd love to see you!
I can't emphasize enough the importance of taking care of yourself and listening to your body. Take time for yourself this month (and every month). Schedule a massage! Or, take a vacation!
June 2017
As some of you know, I recently drowned my computer and was without it for awhile. It was an unfortunate accident and during the time my computer was being repaired I kept asking myself, "What is the lesson here? You know, aside from keeping water away from electronics…" I've come to the conclusion that the lesson is to slow down and to be more present. Had I been more present I would have realized that my charger wasn't going to reach my computer and it probably wouldn't have knocked over my water bottle.
With the excitement summer upon us, it's important to remember to slow down and be more present. How can you help yourself slow down and stay in the now? The easiest way, in my opinion, is to be mindful of your breath. Taking a minute (literally!) every couple of hours to inhale and exhale deeply is not only extremely satisfying for your lungs, but you'll almost instantly notice your body loosen and your stress fade away. Whether you're running errands, getting a massage, or lounging around, this is a great way to bring yourself into the present moment.
It takes patience and practice, so don't get discouraged! Honor yourself and your journey to become a better version of yourself. It is definitely something I'm constantly working to improve.
May 2017 – Let's Celebrate!
May is a celebratory month! This week we celebrate the Kentucky Derby. On Sunday, May 14th, we celebrate the mothers in our lives. Gift certificates make a lovely present–wink wink! Throughout the month we celebrate young graduates and we end the month remembering all those who have served our country.
Whew! I'm exhausted just thinking about all the festivities! During such busy times, it's extra important to remember to take care of ourselves so we can be at the top of our game. Massage is a wonderful way to do so.
Starting this month I'm opening my Tuesday availability (11:00am – 5:00pm). Take an hour or so for yourself to de-stress and re-energize. Schedule your next appointment! I'm here for you.
April 2017
Many of you have been a lot more active with the nice weather we've had lately — running, yoga, gym memberships… the list is endless! Maybe you're training for the mini or full marathon, or maybe you want to feel better in your own body.
Whatever your goal, it's important to remember balance. We have to remember to stay hydrated, rest, and of course to stretch. A lot of people feel like they don't stretch enough or that they're not good at stretching. I've got a great solution for you: Ashi-Thai! Ashi-Thai is a fantastic modality I learned last fall to help stretch clients. Influenced by Traditional Thai massage, it is a combination of barefoot compressions and passive stretching. Ashi-Thai, like Ashiatsu, helps release muscle tension, increase range of motion and flexibility, and decrease soreness to improve overall athletic performance and well-being.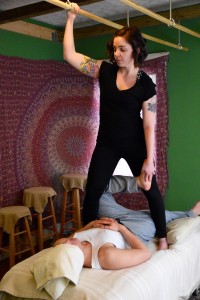 Above shows how Ashi-Thai can help stretch out your hip flexors – great for athletes and those who sit a lot.
If you're curious about Ashi-Thai, come to Rainbow Blossom in St. Matthews on Sunday April 9th from 12:00pm-4:00pm! They're celebrating 40 years of business and I will be giving massages. Or, as always, you can schedule online for your next appointment!
March 2017
Whew! I hope you all survived Mother Nature's storms last night! With all the changes in the weather lately — warm, cool, rainy, dry — many of you have mentioned that your sinuses have been acting up. As we know from living in the Ohio Valley, this is only the beginning!
Fortunately, massage is a soothing, gentle way to relieve your sinus congestion and I'm here to help. At your next appointment, tell me about your sinus ailments so I can not only work on them to ease your discomfort, but also show you simple ways to manage your symptoms at home.
In addition to massage, another way to ease your sinus congestion is through reflexology and halotherapy. You guessed it! I'll be at Louisville Salt Cave on Tuesdays March 14th and 28th from 6-7pm. The combination of reflexology and halotherapy not only feels good and is relaxing, but also shows improvements in respiratory health, depression/anxiety, and helping your body maintain balance while healing itself!
Remember to listen to your body and take care of yourself. Let me help you on your wellness journey. Give me a call!
February 2017
Happy Groundhog Day Everyone!
This month's newsletter is going to be short and sweet, just like February itself.
I'd like to share with you the winter issue of Body Sense magazine. Body Sense provides valuable information about how to make massage and bodywork a healthy part of your lifestyle. In this issue, there is a flowchart and glossary guide to teach you about other types of massage and bodywork therapies. Author Karrie Osborn shows how bodywork eases fibromyalgia pain and author Cath Cox explains how to perfect your massage experience every time.
A reminder that Valentine's day is less than two weeks away! Get your special someone a gift certificate for massage. They make great presents and add a little extra love and compassion for this special occasion.
Last, but not least, I'll be giving reflexology at Louisville Salt Cave on Tuesdays the 7th and 21st at 6:00pm. I'd love to see you there!
January 2017 – A New Year, A New You
HAPPY NEW YEAR EVERYONE!
I hope you all had a lovely holiday season! Now is the time when most of us are ready for new beginnings and fresh starts. If 2017 has got you motivated to improve your health and well-being, I've got some options that I think you'll find valuable.
If you're feeling drawn to hit the gym or try a new yoga class, this is a great opportunity! I'm teaming up with 502 Fit Pass, a monthly membership that connects you to over 40 gyms and studios in Louisville. For the month of January, all Compassionate Touch clients will receive $25 off their first month. To see a full list of partnering gyms and class schedules, visit www.502fitpass.com. Use promo code "ashleyfitpass" at checkout to receive the offer.*
If working out isn't your scene, check out Louisville Salt Cave. Ahhhhh, so relaxing and restorative! In addition to my reflexology sessions, they also offer halotherapay, Qi Gong, and hypnotherapy for stress reduction.
No matter how you decide to improve yourself, remember that massage is a great way to help you through your wellness journey. Show yourself compassion this year and give me a call or schedule your next appointment online.
*This offer is only valid 1/1/17 – 1/31/17. Cannot be combined with any other offers. Locally created and owned. No contracts. HumanaVitality Partners.
December 2016
Welcome to December everyone!
This is the season when it's extra important to remember to take care of yourself. I know it's hard to do sometimes but we have to remember that if we don't first take care of ourselves then we won't be able to care for and enjoy those around us.
During this busy time is when colds become err… popular. A few of you have asked what you should do when you aren't feeling well.
"Should I keep my massage appointment? Do you know any home remedies?"
In regards to whether or not you should keep an existing massage appointment, keep this in mind: If you have a fever, are contagious, or if you wouldn't want to work on you, neither do I. I would much rather you cancel your appointment so you can get well. Take care of yourself. (Notice a theme?) It's what's best for both of us. Here are some home remedies that I like to use and find super helpful during the colder months.
Another easy way to lessen the craziness this season and to take care of yourself is through meditation. You may be thinking, "Who has time to meditate?" The answer is… EVERYONE! It doesn't have to be in a sacred space with candles burning or soft music. You can meditate in your car during a red light or even while you're in line waiting to buy gifts for your loved ones. This video shows you how simple it is to collect and release your thoughts in one minute! It helps bring awareness to your breath and mindfulness to your self. Go on. Give it a try and see how it helps when stresses are arising.
One last thing — if you're looking for a gift for someone special in your life, give the gift of compassion and wellness. You guessed it. I have gift certificates available and they make the perfect holiday present! Give me a call, swing by my office, or purchase them at your next appointment!
Happy holidays!
November 2016 – Special Invitation
HAPPY NOVEMBER!
I'm so excited with all I have to share with you! Before I get to your special invitation, I want to give you the scoop. Bear with me!
First, I'm pleased to announce that I finally have Ashiatsu bars hanging from above–no more portable bars attached to my table! While having even better body mechanics for myself, you will experience better/more accurate pressure during your sessions, more silence (I won't be bumping into the bars while working on you), and more fluidity overall. A huge thank you to Steven and Jennifer for helping me make this project happen! You did a phenomenal job and I'm still so thrilled!
Second, this month I'll again be teaming up with Louisville Salt Cave for reflexology. If you've not tried Halotherapy or would like an introduction to reflexology, I encourage you to check it out. I'll be there Tuesdays November 15th and 29th at 6:00pm. It's becoming more and more popular, so don't hesitate. Reserve your spot now!
Okay, now for the big news! November is Client Appreciation month and also my one year anniversary of being completely on my own as a massage therapist.
Autumn is here and so is the next issue of Body Sense magazine! Body Sense provides valuable information about how to make massage and bodywork a healthy part of your lifestyle.
In this issue, author Cindy Williams lets us know how we can provide tremendous care for our elders through bodywork, author Karrie Osborn shows us that there's a miracle beneath our skin known as fascia, and author Gregory Gorey explains cupping's past and current popularity.
A reminder that tomorrow (Sunday October 2nd) I will be collaborating with Strive's LifeRhythms group! If you like music and drumming, in addition to Ashiatsu, I encourage you to check it out. Also, I'll be giving Reflexology sessions this month (Tuesdays October 11th and 25th) at Louisville Salt Cave. Reserve your spots now before they're gone — I would love to see you there!
Last, but not least, I traveled to Cincinnati last month to advance my training — this time in Ashi-Thai! What is Ashi-Thai exactly??
"It's hip with a little Zen sprinkled in and the curriculum is the first of its kind ever introduced until now! Ashi-Thai is an expression of traditional Thai stretches/exercises that have been modified to use with bars on the ceiling so no heavy lifting occurs. The sessions are performed fully clothed without any oil or cream." (http://www.deepfeet.com/ashi-thai.html "Ashi-Thai").
I am excited to discuss any of this information with you or answer any questions you have regarding Ashi-Thai!
September 2016
Hey guys! August has been a continuation of July's lesson: Listening to your body. In doing so, I've had the opportunity to observe and evaluate myself and my work which has resulted in a few changes that I'm happy to announce. The biggest change starts today, September 1, 2016. I am shortening my workweek to Wednesdays through Fridays 11:00am-7:00pm and Saturdays 11:00am-4:00pm. I will still have office hours on Mondays and Tuesdays, but will no longer be doing massages those days.
For those who use online scheduling, in the past you've had the option to choose which style of massage you'd like to receive in addition to the length of the session. Now you only need to choose the length of your session: 30, 60, or 90 minutes. Simple and easy!
We talk a lot about the benefits of listening to your body. Putting your needs at the top of the list has got to be one of the hardest things to do in life, especially when our surroundings tell us to do the opposite — push, grind, go go go… I've noticed a tremendous difference the last two months by being aware when my body says "Hey, it's time for a break. Go for a walk," or "Have a snack." My mind is clearer; I feel more creative and my energy is higher.
I learned from my body's cues that I was starting to spread myself too thin. Recognizing this and continuing that path would only lead to burnout which is not only an unhealthy choice for me, but also not helpful to you. Making these small changes have allowed me to have more focus on my self-care so I can continue to give you the quality massages you deserve and also to help me focus on running the successful business I see for the future.
You can make these changes, too! Start small. Take a deep breath. Perhaps a massage will help clear your mind. *wink wink*  No matter what you do, know that it's the little steps that add up to make a big difference in life you're choosing to live.
August 2016
July was such busy month! I found myself immersed with clients, farmers markets, marketing, networking… YAY!
The farmers markets were a wonderful way to meet new people, to share and to educate the benefits of massage and, in particular, to show everyone how cool Ashiatsu is! This month, pending weather conditions, 
I will be at Douglass Loop farmers market Saturday August 6th from 10am-2pm and at Rainbow Blossom Lexington Road Sunday August 28th from 12pm-4pm.
July was also a good month for learning and re-learning my boundaries. Like many of you, I get caught up in trying to do too much. I find myself wanting to go the extra mile, to help others as best I can. My mind was exhausted by the end of the day from all the 
hustle and bustle
. And, although I felt physically strong and healthy from the workouts I've incorporated into my routine, my college injury started to creep back into my life. I've learned that whenever my injury reappears, it's a sign that something is unbalanced. Of course, at first, I ignored it thinking, "It'll go away," or "I can handle it." I should know by now, I cannot fight this signal. At its worst, I heard myself talking to all of you saying,
"Listen to your body." 
So that's what I've been doing. I forced myself to take a break from my workouts to help my injury heal; I 
got a massage
 and have set limits for myself throughout the week. I bought a journal and have made an extra effort to rest and listen to my body. It feels good. 
Never underestimate the signals your body is giving you.
 Listening to your body is such a valuable lesson. With balance, I find myself better able to give the way I see myself giving — to you, my family, and to myself.
Starting right now, let's all take a deep breath and take better care of ourselves. Aaaaahhh… You can do it. Trust me!
PS: The Compassionate Touch now has 
Google
 reviews! I encourage you to please write a review and share your experience with those who are looking for massage!
July 2016 – Summer is Here
Happy July Everyone!
There's a lot happening that I'm happy to share with you. If you've been following me on
Facebook
or
Instagram
, you already know that this month I'm going to be frequenting the Douglass Loop and Lexington Road Rainbow Blossom farmers markets. Also, be on the lookout for an event later this month with
Louisville Salt Cave
.
I'll be at Douglass Loop Saturdays July 2nd (tomorrow!), 9th, and 23rd
and
I'll be at Lexington Rd Rainbow Blossom Sundays July 3rd (this Sunday!), 17th, and 31st
I'm super excited to take my bars out of the office to show everyone what Ashiatsu is and educate the community about benefits of massage. Come out to
share your experiences
with others at the farmers markets. I would love to see you!
With July comes the heat and the insects! Stop by my office to pick up a bottle of my homemade bug spray with a nice blend of rosemary, lavender, eucalyptus, peppermint, and lemongrass. Bugs won't be able to stand you but you'll smell absolutely wonderful! I've been using this spray for more than 2 years now and absolutely love it! It's the perfect addition to your summer adventures and cookouts.
And, speaking of cookouts…
We often talk about the importance of rehydrating after our sessions. Whether we just received a massage, had a killer workout or are hanging out with friends, we need to replenish our bodies. In the summer, I like to make flavored water. It's so simple and is very refreshing! One of my favorite recipes to spice up my water (or, rather, cool down) is to thinly slice a cucumber, chop a small handful of mint leaves, put them into a pitcher, add water, chill, and you're good to go! You can do this with any fruits or herbs that sound good to you — get creative and have fun with it!
I hope everyone has a safe holiday!
HAPPY FOURTH OF JULY!
Blackberries picked on the farm
June 2016
Whew! Can you believe we're halfway through the year now? A lot of exciting things are happening and I'm eager to share them with you! First, I had the pleasure last week to sit down with Lisa Flannery at Crescent Hill Radio WCHQ 100.9 for her Wellness Hour to talk about The Compassionate Touch and the work that I do.
As many of you know, I'm a pretty simple gal. I try to take the more holistic approach in just about everything and summertime is no exception. For the last 2 years I've been experimenting with homemade bug sprays to keep pesky bugs away from me and out of my house; room sprays to help freshen my home and mood; and pillow sprays to help de-stress at the end of the day. I've come up with four blends that I think everyone will enjoy:
BACK OFF BUGS: an all natural bug spray that can be used around the house, when you're working out, or hanging outside with friends.
HAPPINESS: a nice mix of citrus and floral, use this as a room spray or a mood enhancer.
BREATHE EASY: pretty self-explanatory, this spray will help open your sinuses so you can breathe better!
SERENITY: spray at night to help ground and calm yourself for a restful sleep or when you're feeling stressed
They're a wonderful addition to your wellness routine and I'm very excited to share them with you! (Edit: Wellness sprays are sold in studio only)
With the weather getting warmer, a lot of us are becoming more active. We're cycling, hiking, running, and spending more time outside. (This is a great opportunity to take advantage of the homemade bug spray mentioned above!) When we increase our daily activities, it's that much more important to balance out our bodies. In our sessions together, we talk a lot about how to do this with stretching. Here is a quick article explaining many stretches we talk about — they're wonderful for helping your back, hip, and leg pain! In addition to stretching, ask for reflexology during your next session to show your feet a little more love! What is reflexology? Basically, it's a thorough foot massage that stimulates receptors in your feet that correlate with the rest of your body. After your session, I can show you which points to work to help balance your body until your next massage. Learn more here.
May 2016
Happy May y'all!
Can you believe we're already a third of the way through the year? Wow! And what better way to kick off May than with the Kentucky Derby. Whatever your traditions or plans, enjoy this special time of year!
Along with this exciting time in the city, I know some of you will be excited to read the newest issue of Body Sense Magazine. There are a lot of quick, valuable reads regarding benefits of Reiki, movement therapies, more information on tipping policies, and how massage helps you become more aware of your body.
"Unless you are actively involved in unwinding the pattern and returning to the way the body was designed to move in space, you will only heal so much." -Cindy Williams, LMT "Movement Therapies: Strengthen Your Body and Accentuate Your Healing" Body Sense Magazine Spring 2016
The weather is getting warmer and a lot of us are working out more. Whether you're running at the park, lifting weights, or taking a yoga or pilates class, massage is here to help make your exercise better; here's how! And, to get you through until your next massage, here is an article that shows you how to loosen your hips to help make your workouts more easeful. Last, but not least, don't forget that Mother's Day is a week away! Show the mothers in your life how much they mean to you by giving them the gift of massage. I have gift certificates available! Here is a lovely article that shows how massage can be beneficial for mothers.
"Mama was my greatest teacher, a teacher of compassion, love and fearlessness. If love is sweet as a flower, then my mother is that sweet flower of love." -Stevie Wonder
April 2016 – Spring Has Sprung!
It's finally April — one of my favorite months of the year! The birds are chirping; the rain is falling; plants are blooming, and that means it's time for allergy season. Most of us living in the Ohio Valley have, at one time or another, dealt with pesky allergies. Did you know that massage can help relieve your sinus congestion? At your next appointment, let me know about your sinus ailments. We can talk about ways to help your symptoms at home and I can spend a little more time massaging your sinuses to help you breathe better and relieve any congestion or pressure you're experiencing.
Many of you have asked me how to strengthen your hands and wrists to help prevent injury. We use our hands for so many things (computers/phones, driving, playing instruments) all the time! The following videos, in my opinion, do a very good job showing and explaining how to do just that. The first part shows how to warm up your hands and incorporate simple exercises using a dumbbell. If you don't have weights at home, you can always use a canned good, the TV remote or nothing at all depending on your comfort level. Part two incorporates resistant bands! Try these at home and let me know how they work for you!
As you probably know, I'm in the process of growing my practice. I would love for each of you to share your experiences with your friends and, if you're not already, please follow me on my business Facebook and Instagram pages.
March 2016
Hey hey everyone! Thank you all for your feedback regarding newsletter topics. I'm so thankful you took the time to share your ideas with me! Please, keep the ideas coming as you think of them.
One thing many of you have had questions about is tipping. To tip or not to tip? That is such a good question! The general rule of thumb is that if your therapist is an employee of an establishment, it is courteous to tip, but not mandatory! For me, I'm always very grateful for gratuities, but never expect them. Each establishment is different so don't ever hesitate to ask about their tipping policies.
Throughout our sessions together, one thing we almost always talk about is the importance of stretching. Without stretching, we contribute to the issues that cause us pain. Stretching helps us maintain balance within our bodies. Here is a nice article that shows helpful stretches for each of you. I'll be sharing more stretches for specific issues in future newsletters.
Not only can stretching help you physically, it can also help you mentally. Feeling stressed? The time you take to stretch is a great opportunity to tune into yourself and to clear your mind. Stretch out and focus on your breath. This simple one minute meditation can help.
February 2016 – Good News!
I hope everyone survived the long, cold month of January.
I've got some very exciting news. One thing I've heard from a lot of you is that you would like an option for online scheduling. Well, it has finally happened–you can now book your appointments online! Schedule your next massage through my website or through Massagebook. Yay! If you experience any difficulties (you shouldn't!) let me know so I can help remedy them.
As I stated in last month's email, a goal of mine is to continue monthly newsletters. I don't want to waste your time; I would like your help! Please email me ideas, topics, or questions you'd like answered regarding massage/health/wellness, or anything you'd like to learn more about. This will help ensure that you're getting the most out of these letters.
I can't wait to see you online and hear your newsletter ideas!
January 2016 – Happy New Year!
I hope you all had a wonderful holiday season! One goal of mine this year is to send a monthly newsletter. So, here it is!
I'd like to thank you for your business by sharing this complimentary issue of Body Sense magazine: http://www.bodysensemagazinedigital.com/i/620631-winter-2015
Body Sense provides valuable information about how to make massage and bodywork a healthy part of your lifestyle.
In this issue, author Cindy Williams talks about  conscious breathing during your bodywork session, author Amy Jirsa shows us how to keep the doctor away with echinacea, and author Leslie Young relates a heart-warming tale of a massage convert and her inspirational MT. I am excited to discuss any of the information you find inside.
Enjoy!
December 2015
Wow! It's been a long time since I've written. A lot can happen in a year and a half. Last month I decided to take the leap and venture out on my own. As scary as that is, it is also very liberating and I'm excited to see where my life is heading.
From here on out, I'm planning to fill this blog with my monthly newsletters so be on the lookout!
5/12/14 – Listen To Your Heart
I can't believe how long it's been since my last post! It's amazing how time gets away from us. My focus today is a topic that has been on my mind for months: following and listening your heart. It's something you hear all the time and yet, for many of us, it's something that is so hard to do. Why? Why is it so hard to do what we love?
At the time of my last post, I had just embarked on a journey that I thought was where my heart wanted to go. I knew the journey was going to teach me many things and give me tools and experience that I could take along with me for the rest of my life. Because of these reasons, I stayed on the journey.
Early on I could tell I wasn't on the right path. How did I know? My stomach was in knots all the time; my stress had sky-rocketed; I cried and cried almost every day. Month after month, my mind, my heart, and my body were telling me, "This is not where you want to be." I had pretty much quit everything that had been familiar to me to take on this new journey and I was scared. I was scared of leaving the  financial stability; I was scared of going backwards. I was scared of the unknown.
I was so exhausted and drained from everything. My body was sluggish; my attitude was poor; my energy was low. I had been trying so hard to find balance (through yoga, journaling, venting to friends, meditation) and it seemed that, no matter what I did, nothing was helping. I was nearing my breaking point.
It wasn't until a few weeks ago that I FINALLY listened. I finally gave up the idea that I was stuck on that path. It became so clear to me that I could have balance and that I could make a new path.
With the support of my loved ones and the confidence and courage in my self, I'm now making a living doing what I love to do and doing it in a way that is more balanced and that satisfies my body and soul. How soon will you listen to your heart?
9/30/13 – Breathe
My mom always told me, "Change is the only thing that is consistent in life." How many times do you plan for something and, at the last minute, it changes? Whether it's positive or negative, change is always happening in our lives.
Ask yourself these questions: How do you deal with stress and changes, big or small, in your life? How do you and your body handle stress? Some of us  panic, scream, or cry. Others of us go for a run, play music, or read. How do you feel afterwards?
I have a very good friend who teaches yoga. Whenever I am stressed, she sends me this little reminder: "Remember your breath." It's so simple, isn't it? I can't tell you how many times this little reminder has helped me! I'm so thankful for her words. Breathing not only gives my body the oxygen it's lacking due to my stress, but it forces me to stop. Stop doing whatever I'm doing for just a moment to center myself. Gather my thoughts, my emotions, my body.
If breathing isn't enough to help you calm yourself during stressful times, try some of these tips. Whatever method you choose, make sure it's something that works for you. Make it something that's easy to remember and something that you makes you happy.
6/15/13 – Vehicles of Our Lives
In 2009 I sold my car. I had just finished massage school and was at that turning point in my life when I had to sit down with myself and have a serious one-on-one conversation. I had to figure out what I was going to do with myself, where I was headed, and how I was going to get there. This conversation took an extremely long time, possibly months or longer. I finally came to the conclusion that, to get where I wanted to be and to do what I wanted to do, the best solution was to sell my car and use my bicycle as my main source of transportation.
For a lot people, driving their car is integral to their everyday lives. And for many, especially in the United States, it's hard to imagine life without at car. I was one of those people. I'll admit that it was a really difficult decision to make. And, of course, I was a little nervous at first. I mean, traffic can be a crazy at times and we always hear stories of cars vs. cyclists. Isn't it dangerous to ride a bike in the city? Nevertheless, my decision had been made.
Recently, a friend sent me this article  entitled "Bicycling: The SAFEST Form of Transportation." Really? I had to read it! I encourage you to take a moment to read it, too. It combines the financial and health benefits of cycling – two big reasons for selling my car. It was right up my alley!
Cycling has helped define who I am. It's quite possible that it has been one of the most liberating things I have ever done. It has helped me to stay healthy, both physically and mentally, and be more mindful of my surroundings. It has forced me to become better at time management, encouraged me to slow down in my everyday life and to be more appreciative of our earth. It has shaped my life in a way I never thought it would.
Here are a few links about biking in Louisville: Bike Louisville and Wheeling Around Louisville
5/20/13 – Barefoot Benefits
As a child, I never enjoyed wearing shoes unless I was getting dressed up for a special occasion (which I loved doing!).  I absolutely loved running around in the grass, smelling the fresh air, picking flowers, and feeling the wind blow in my hair.  My brother and I would run up and down the sidewalk chasing one another and, even then, the pavement and tiny rocks always felt good on my feet.  Sometimes after a storm we would go outside (barefoot) and splash around in the puddles and the mud.  It was always so much fun and it always felt really good.
As an adult, I still prefer to be barefoot.  It still feels good on my feet and reminds me of my childhood days.  I'm constantly reminded how carefree and simple life can be.  I read an article the other day that shared the benefits of being barefoot and it made me smile.  I would like to share it with you here.
So many times in our adult lives it is difficult to remember the little things.  We're constantly rushing around from here to there and back.  What if we stopped, even for five minutes, to just be consumed with ourselves, with our thoughts and our feelings?  What if we stopped the go-go-go to take a breath so we can feel the wind blow in our hair, smell the flowers that we picked, and feel the sun on our faces?
Feel the sun and smell the flowers
5/4/13 – Compassion
When deciding on what to call my new business, I was puzzled.  A business name is very important.  I wanted it to reflect the work that I do and also to reflect a little bit about myself.  I wanted it to be simple and memorable.  After brainstorming for months, I really became drawn to the word compassion.  When I talked with friends and clients, I received a lot of positive feedback when it came to compassion.  In the past few months, I've noticed signs here and there that have encouraged and supported my decision to use compassion in my business name.  And so The Compassionate Touch was born.  I feel that it combines the qualities of my work and my personal view of massage very well.
Every month I receive a magazine from AMBP called Massage & Bodywork.  In the March/April 2013 issue there was an article titled "The Heart Center" written by Ann Marie Chiasson, MD.  In the article, Ann Marie Chiasson talks about the four attributes of the heart center.  Compassion is one of the attributes.
"The word compassion is from Latin and means "suffering with."  Compassion is the loving desire to alleviate another person's suffering, combined with deep respect for that person's experience.  It means that we hold the experience with the person, alongside him, instead of trying to change the experience in order to help him feel better.  In compassion, we touch the truth that all of life, including painful or difficult parts, is sacred.  Compassion can be transformed into many things, but it is not pity or feeling sorry for someone.  It is tapping into a deep ocean of feeling—an ocean that is transpersonal and can be shared between individuals." -The Heart Center by Ann Marie Chiasson, MD
4/30/13 – Reflexology
Hey Everyone!
I have very exciting news.  I am now certified as an Integrative Reflexology ® Massage Therapist by Claire Marie Miller Seminars, one of the nation's leaders in massage therapy!
It was a really wonderful experience getting to learn a new modality that will help my clients and myself feel better in our everyday lives.  I look forward to practicing and sharing the benefits of Reflexology with my friends, family, and clients.
To learn more about Integrative Reflexology®, go here: Integrative Reflexology®
The Compassionate Touch
Ashley Shears, LMT
Louisville, KY
(502) 414-1863
ashley@thecompassionatetouch.com